The perfect holiday snap locations
Date Published: 1 May 2018
'Oh hey Scotland, fancy seeing you here?…' It's time to make your friends a little bit jealous and create some serious FOMO, if you're coming to Scotland then you should definitely check out our list of the best scenic hotspots that will look fantastic on your Instagram feed.
---
Eilean Donan Castle
Image Source
There's nothing quite like the sheer grandeur of a castle to make you feel part of something. From the architecture and endless stairwells to the noble and significant residents both past and present, a castle is a place where your mind can run wild. Luckily for you in Scotland, there are over 2000 castles. We recommend Eilean Donan Castle, which overlooks the Isle of Skye at the point where three lochs meet. This is one of Scotland's most photographed castles and it's very easy to see why.


Loch Lomond
Image Source
A very well known song and an even more beautiful place. Do you know where I'm talking about? It can only be the 'bonnie bonnie banks of Loch Lomond. Loch Lomond and the Trossachs National Park is often hailed by many as the 'gateway to the Highlands' and whether it be a picnic by the loch's edge, the snow-capped mountains in the distance or the excitement of a long walk in the woods or a trek up Conic Hill, there's most definitely a picture perfect opportunity at stake.
Luskentyre Sands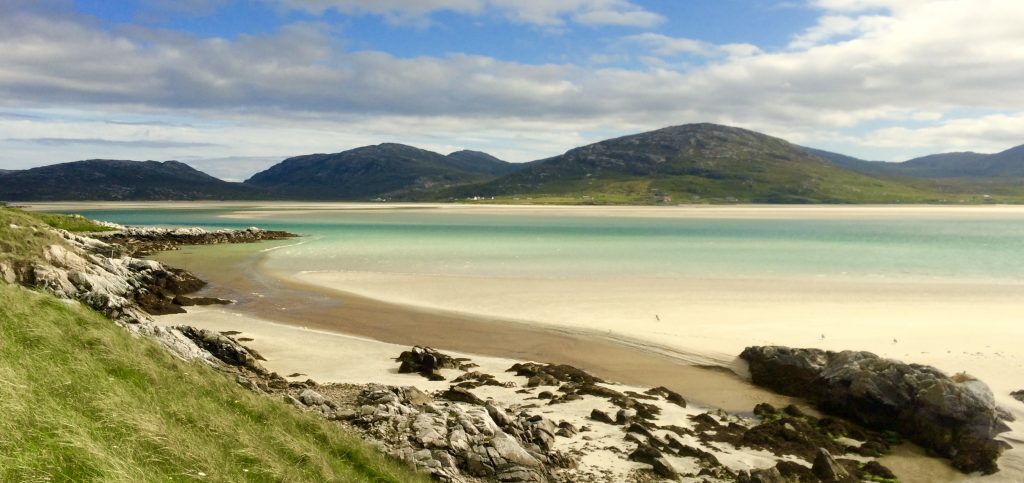 Image Source
Ever found yourself gazing at something in utter awe and just being completely mesmerized by the beauty that is in front of you? Well at Luskentyre Sands on the Isle of Harris there's absolutely no denying that you won't be. Luskentyre Beach is simply a place where you can really press pause and forget about all your troubles, it's a little glimpse of heaven. On a warm sunny day, when the tide is neither fully in or out but there's just enough to bring the beautiful aquamarine and turquoise hues over the bay, you almost have to pinch yourself to make sure you are not dreaming. Luskentyre Beach offers all who a visit a picturesque and peaceful oasis.
Glasgow
Image Source
If there's one city in Scotland that everybody knows and loves, it's got to be Glasgow. A day spent here is one that will be full of unique culture that you won't find anywhere else! Edinburgh might well be the capital but Glasgow remains very much unrivalled by it. Be inspired by its art, history, culture and stunning architecture. From the Kelvingrove Art Gallery and Museum, the River Clyde itself, an array of shopping centres and independent boutiques, award-winning music venues, mural trail, the Hogwarts likening of Glasgow University and so much more. You'll certainly not be too far from a photo opportunity.
Isle of Skye
Image Source
'Speed Bonnie boat', sail over the sea to the Isle of Skye famed for its towering,ragged mountains, and coastline. It's a world-class destination for walkers and climbers. Skye is a truly mystical and magical place and if there's one thing about Skye that'll leave a lasting impression on you, it's got to be the stunning scenery. Whether you're driving or walking you can see many of the island's geological features, such as the Old Man of Storr, the Quiraing and the Cuillin, however, if you're planning on exploring and capturing these sights on camera be sure to take your sturdiest pair of boots. Let the adventure begin!
St. Andrews
Image Source
The Home of Golf, where Kate met Wills, home to Scotland's Oldest University and named after Scotland's patron saint, it can only be the seaside town, St Andrews. St Andrews has an interesting history and its iconic cathedral was built in the 12th century and was the largest building in Scotland for 7 centuries. The ruins of both the cathedral and castle will take you on a journey back in time. The castle's underground mines passages and dungeons still remain giving a real taste of Scotland in the medieval ages. If it's not the history you're here for, there's always the beach at West Sands or if it's the whole town you want to take a tour of for your Instagram story then you'll please to know it's all within walking distance!
Whisky Distillery
Image Source
Now last but not least, it's a must stop spot photo opportunity for any fan of this famous tipple. Of course, if you're in Scotland it's the perfect place to have a wee dram or two and why not take a photo of yourself holding your favourite blend at a whisky distillery itself. In Scotland, there are over 90 active whisky distilleries so the choice is endless. But if you do plan on going on a whisky tasting extravaganza just make sure you've got a designated driver all sorted. Show off all the stops on your Instagram for a week!
Don't forget to:
Follow us on Twitter – https://twitter.com/clickbookstay
Like our Facebook – https://www.facebook.com/clickbookstay/
Subscribe to our Youtube – https://www.youtube.com/channel/UC3jmUsh4PLubj3dSniJmxQQ
Back to all news