Where in the World is Scotland?
Date Published: 17 May 2018
Scotland may be a small country but its influence can be found in all areas of the world. Those who direct descendants of Scots, or have relatives here, highly value the country's tradition and indeed its culture.
---
This way of life has been carried across the globe by those influenced by their heritage and has created a touch of Scotland in many different places, and these may surprise you! From the style of speech to the very feel of the place, it is clear these places have been heavily inspired by the Scots.

Gurro, Italy
Image Source
In the twentieth centuries, thousands of Italians emigrated to Scotland but it seems that 400 years earlier than this a group of Scots settled in the village of Gurro in the Italian Alps. According to local legend, the Scottish soldiers arrived in the village after fleeing the Battle of Pavia in 1526. In fact, the village became populated by Scottish soldiers. Within Gurro, it is clear that there has been some sort of Scottish influence whether it be myth or not. In an interview with the BBC, Gurro residents told of their thoughts on the towns relationship with Scotland and the evidence of the Scots way of life. Alongside the steep cobbled streets, there were some rather unusual architectural features on some of the buildings. These buildings had wooden supports under the windows, positioned to form what looks like the St Andrew's cross. In addition to this, some consider Celtic-derived words in their dialect to be a sign of Scottish origins. Across Gurro there are plenty more fragments of evidence to see. An old folk song with lyrics indicating nostalgia for the sea although 500 years ago the people of Gurro would never have travelled far enough to see it. Another is a bar in the village, which had always been called the Scotch Bar – now called the Circolodegli Scozzesi – the Scottish social club). To this day, Gurro has maintained its strong links to Scotland with many residents making regular trips to Scotland and a Scottish Association Bar serves as a welcome centre.

Dunedin
Image Source
In 1839, the first 150 settlers arrived in New Zealand. In early 1842 several hundred labourers left the Lowlands of Scotland to help develop Auckland. Dunedin, New Zealand, founded in 1848, the settlement on the south-east coast of South Island was named from the Gaelic for Edinburgh – Dùn Èideann. This is a place deeply rooted in Scottish influence. The first settlers here were members of the Lay Association of the Free Church of Scotland, led by Edinburgh-born Captain William Cargill a nephew of Robert Burns. Surveyor Charles Kettle was told to replicate the building style of Edinburgh, Scotland's capital city. Dunedin reminded settlers of Midlothian as this is where many grew up. Its rugged hills were familiar and they were delighted to discover that a Winter frost was usually followed by a still, blue day, highlighting that the surrounding country was suited to raising sheep and growing oats, wheat and barley. The Scottish roots of the city are obvious in the names of some of the city's suburbs – Waverley, Leith Valley, Musselburgh and Portobello. The city is also home to New Zealand Sports Hall of Fame and rugby union team, the Otago Highlanders, are due to play home games at the Forsyth Barr Stadium. If you're looking to venture that little bit further afield then why not visit Dunedin? It may feel closer to home than you think…
Corby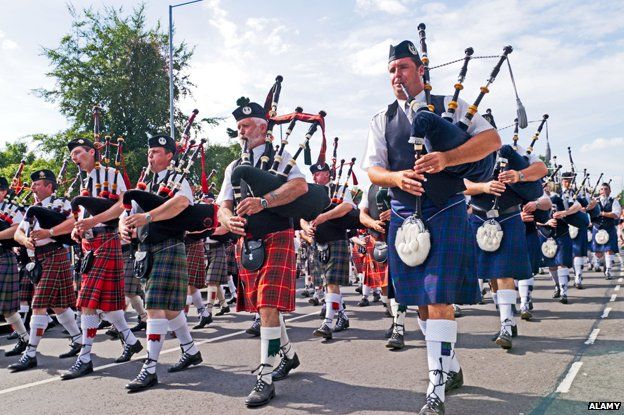 Image Source
Due to mass numbers of steelworkers in the 1930s, the Northamptonshire town of Corby attracted so many Scots it was dubbed "Little Scotland". The rather unlikely association between this small English town and Scotland began when the Glasgow-based company Stewarts and Lloyds acquired the Corby ironstone works in 1920. Twelve years later, the company revealed it was to build an iron, steel and tube-making plant, which would become the most sophisticated and technologically advanced, integrated steel plant in England. At the same time, a downturn in the steel industry in Scotland's Clyde Valley led to mass unemployment amongst men and their families moved to Corby, many of them making the 325-mile journey on foot. The small town's population quickly grew from around 1500, in 1931, to more than 18,000 in 1950. Workers had come from all over the UK with some 4,000 Scots in Corby by 1939, at the outbreak of the Second World War. However, in 1980, the steelworks were closed by British Steel, leaving many redundant. Astonishingly the town has survived this and has attracted new employers including factories producing cereal and snack foods. Scottish culture also survives, many residents still speak with Scottish accents, celebrate Burns Night and Hogmanay at their local social club, and even send their children to Highland dancing classes. In Corby you can find all of the much loved Scottish delicacies such as Buckfast and Tennents all on sale in corner shops, Scotch pies sit on supermarket shelves, and almost every shop sells Irn-Bru. Bradbury's butchers sell everything from haggis and black pudding to Scottish beef link sausages and Aberdeen butteries. So with that being said, if you fancy visiting 'Little Scotland', Corby is the place for you.
Nova Scotia
Image Source
Scottish Canadians are the third-largest ethnic group in Canada, and among the first to settle there. Scottish people have made a large impact on Canadian culture since colonial times. The first attempts to entice Scottish settlers to Canada began as early as 1622 when Sir William Alexander obtained permission from King James VI of Scotland to establish a "new Scotland" — the origin of the name Nova Scotia. However, only a small number of Scottish families settled in Canada, and following the Conquest of New France in 1759, which made the colony impossible to maintain, many Scots returned home or moved south to New England. It was nearly 100 years before a Scots settlement was re-established in Nova Scotia. In 1773, 170 Highlanders and 10 men from Greenock arrived in Nova Scotia. When they arrived they began to build shelters against the winter, but supplies they had been promised never came and for a second time, a Scottish colony was forced to endure a desperate winter on the shores of Nova Scotia. This time the settlers stayed, and entire Highland villages began arriving. During the Highland Clearances, around 15000 Scots came to the area, having been forced from their homelands to make way for sheep, or due to the potato famine. Today Scotland retains strong links with Canada, and many visit Nova Scotia due to its likeness with home and the Scottish culture that remains.
Eibar, Spain
Image Source
It is known that Scots have a great passion for football, and it is such adoration of fans spirit that inspired those fans of SD Eibar in Spain during the 1980s when fans watched the Five Nations and were said to fall in love with the Scottish fan spirit. In 2011, the Eskozia La Brava fan group was formed, whose name translates to Scotland the Brave. The East Stand of the football club's stadium has a Scotland the Brave mural painted on its wall, complete with a Saltire. The team also have a piper to march them onto the stadium, just like the Famous Tartan Army. Trips to the group's spiritual home have since followed to take in matches at the likes of Hampden Park, Easter Road, Tynecastle, Ibrox and Celtic Park, usually before pints at their favourite pub, The Horseshoe Bar. Just like the Scots, Eibar fans had become accustomed to supporting a losing team before promotion to the top tier. Hailing from a town of under 28,000 people, attracting home crowds of 3,000, Eibar is maybe even Spain's smallest club, given that no club in the country's league ­pyramid can claim to come from a smaller town. Football crazy? Then, of course, it's worth visiting the town when in Spain.
This shows us that you really can't escape a Scot or indeed our influence, which is unfortunate for some and celebratory for the many! The Scottish influence and culture are everywhere, which is truly something magnificent.
Like what you see? Then why not…

Follow us https://twitter.com/clickbookstay

Like https://www.facebook.com/clickbookstay/

Subscribe to our Youtube channel

Or just drop us an email hello@clickbookstay.com
Back to all news